Winamp Skins
These are one of my most favorite Winamp skins. Download these skins by easily clicking on the images. All of these winamp skins contain picture of popular korean actress or singer.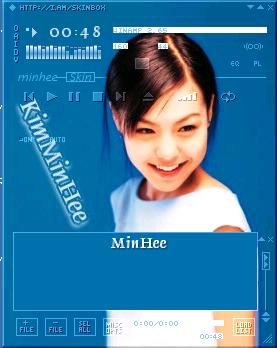 This winamp skin is a picture of Kim Min Hee. She is a popular korean actress in Korea. She became very popular during the last few months. Now, she is so popular and very well recognize that she is filming a movie with Jackie Chan. (an asian movie superstar) The new movie with Jackie Chan will be release to China, United States, Korea, and most of the asian countries.

During her debut years, she worked as a model for television commercials. However as she became more recognize in television, she began appearing in Korean soap operas. (<--it's very popular in Korea) The appearance in popular soap operas gave her a "cute" characteristic. Anyways, that's what i know about her. That's it...
Isn't she cute or what!!!!?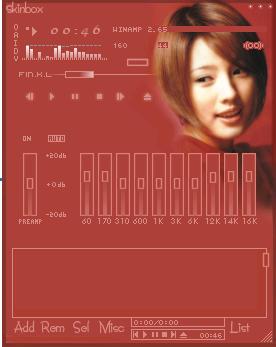 Do you recognize this face? Yup, she is a member of a Korean group FinKL. <--which stands for "Fine Killing Liberty" What a lame name! Her name is Hori. She is the lead singer of FinKL. Few weeks ago, they released their new 3.5 album. Since I dont have any goodthings to say about this group, I'll stop here.
Oh-Yes, She did cut her hair. This is the recent picture.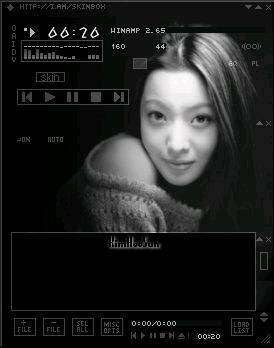 Now, the most famous Korean actress. Do you remember her name? If you dont, please leave this site! (jk) This is a picture of Kim Hee Sun. If you are not familiar with her name, you should pay more attention to other foreign country entertainments. Anyways. She can be considered most beautiful and pretty actress of Korea.
So, memorize her name and download this skin.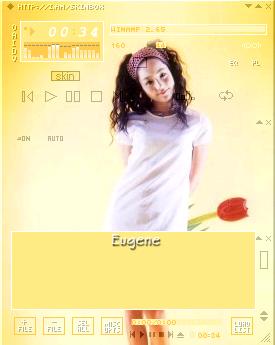 Last but not least, the member of SES. SES is my favorite Korean group. Why? There is no reason for any explanation. SES is da BOMB!!!
This is a picture of Eugene. Eventhough my favorite singer is Shoo, I posted this skin because it was considered "better skin than other ones."
---
| Home | Profile | Winamp Skins | Favorites | Links | Guest Book |